"I'm in a constant cycle of feeling unproductive. My mind is bouncing all over the place. I'm busy, but I'm not making any progress. By the end of the day, I'm tired and feeling unaccomplished."

I see you. I feel you. I've been there.  
The energy feels heavy. Defeating. Hard. You've been stuck here too long.
You can feel your gifts begging to be let out, but you can't seem to find the time to honor them.
You know there must be an easier way to live. You know you were made for MORE. 

And you're right. There IS a better way to move about and plan your days. A way that is rhythmic. A way that adopts the pace of Nature and helps you live in alignment.
It's time to honor your Soul and open the door to use your gifts and find more daily JOY.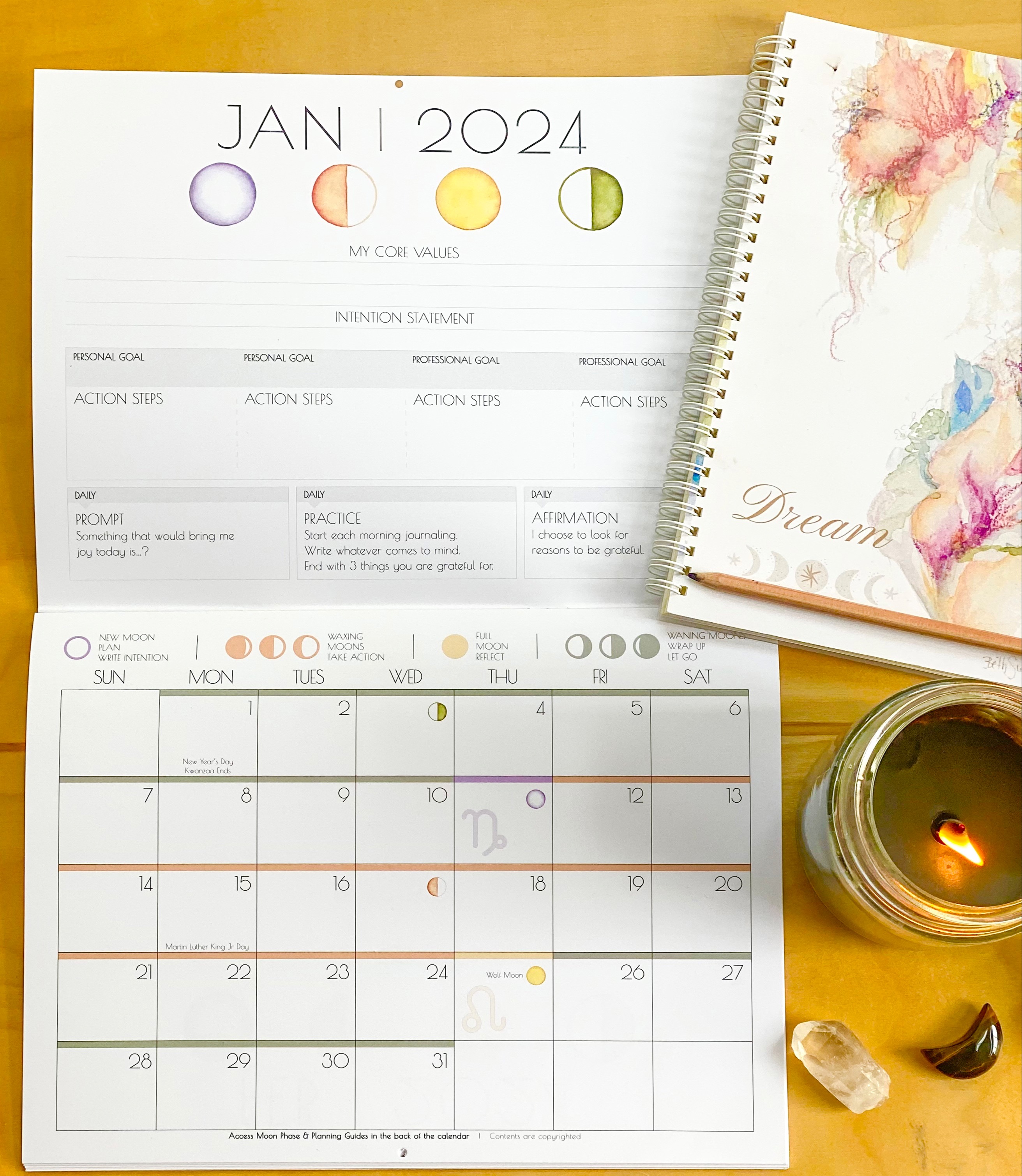 Take a moment to envision yourself perfectly intuned with the cosmos.

BREATHE DEEP.......
Imagine feeling fulfilled each day because you know you are living your life with INTENTION.
Imagine doing the things you love and living in ABUNDANCE.
In essence, imagine living your life in ALIGNMENT.
Planning in sync with the Moon's Phases will take you on the journey you were born to live. Your Soul's journey. Decide what is truly important to you. Enjoy the process of letting go of what no longer serves you and embracing everything that lights your Soul on fire.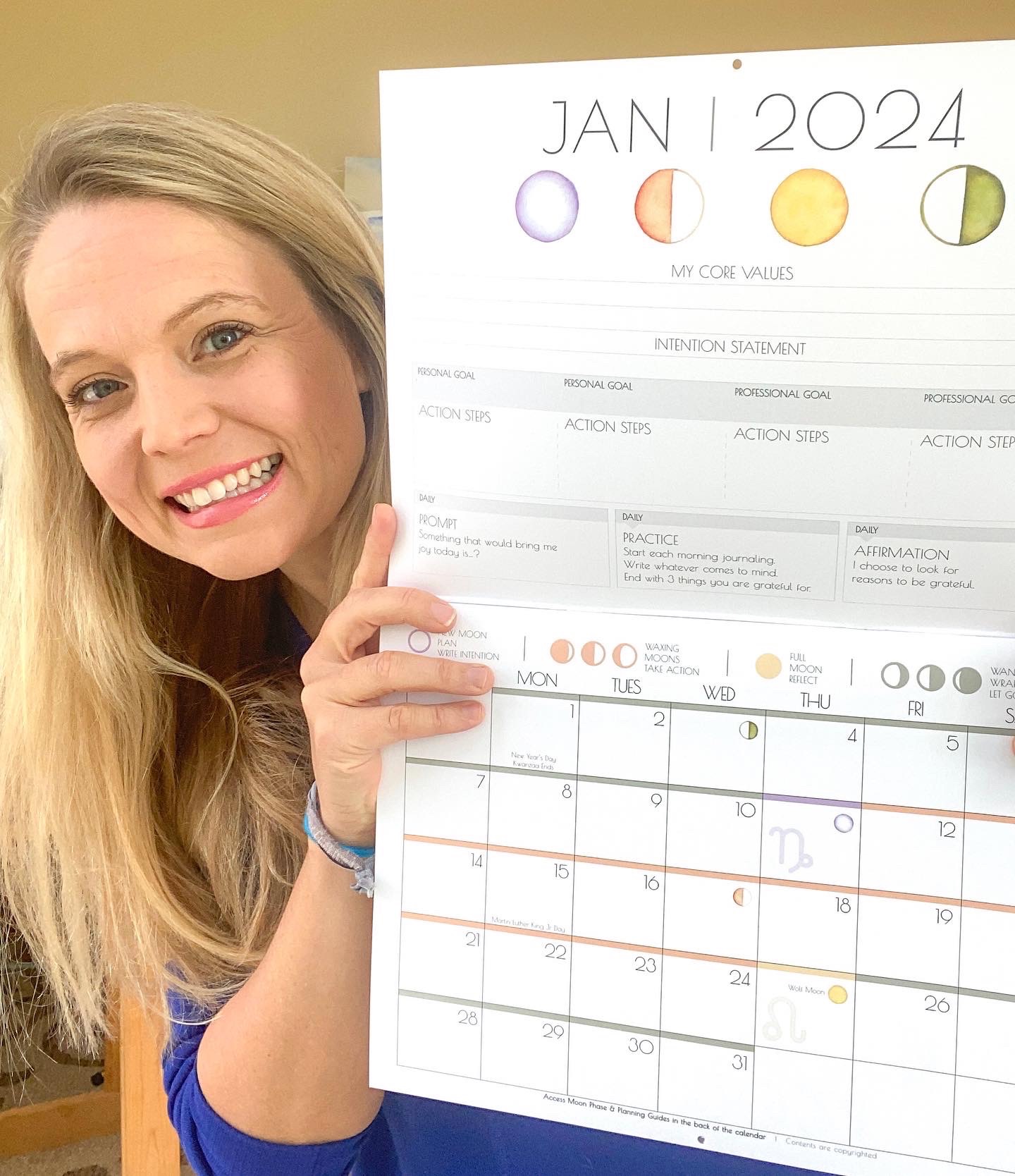 Mapping my days in sync with the lunar phases changed my life.

Hello, I am your instructor Beth Suter.
I've loved creating artwork since the time I could hold a crayon in my hands. At the end of 2016, I took that love for art and started my own business from my kitchen table. I painted between my daughters' naps and after their bedtime.
 I'm a firm believer we should work to live, not live to work. The catalyst to starting my own business was two fold, to honor my creativity AND spend as much time as possible with my family and friends.
As my business and family continued to grow, I found myself working more hours and yet feeling more behind. The 24/7 hustle had me burned out, and the joy from creating was fizzling. I had less time for art and most of my efforts were on the many other components of running a business. The stress settled in.
I KNEW things needed to change. I searched for a way to design my life in a way that provided a natural rhythm. I wanted to enjoy my art business AND enjoy my family.  I wanted more time to travel with my kids, take long walks to the river, read books and paint. Planning in sync with the energy of the Moon's Phases allowed me to do just that. I finally found the joy, ease and clarity I was searching for. My Moon Calendar and 5 step planning process was born!

Let it be easy. Let it be fun. Live in alignment. Share your gifts with the world. Let Joy be your compass.
This is how I want you to see the world. It IS so possible for you to live your life in a way that feels GOOD!
I want to teach you everything I know about planning alongside the Moon Cycle, so you can live the life you were meant to live.


DURING THIS WORKSHOP YOU WILL:

Learn how to implement the 5 step planning process to your personal and professional life.
Discover the optimal Moon phases to dream, set intentions, plan, and take action
Discover the best time to hit cruise control, rest and declutter.
Learn how to create a ritual around the beginning of each Moon Cycle.
Learn about the energy levels of each Moon Phase and how they align to your own.
Dream Journaling-learn what it is and the power behind it.
Core Values - learn what they are, how to determine yours & how to plan goals in alignment with them.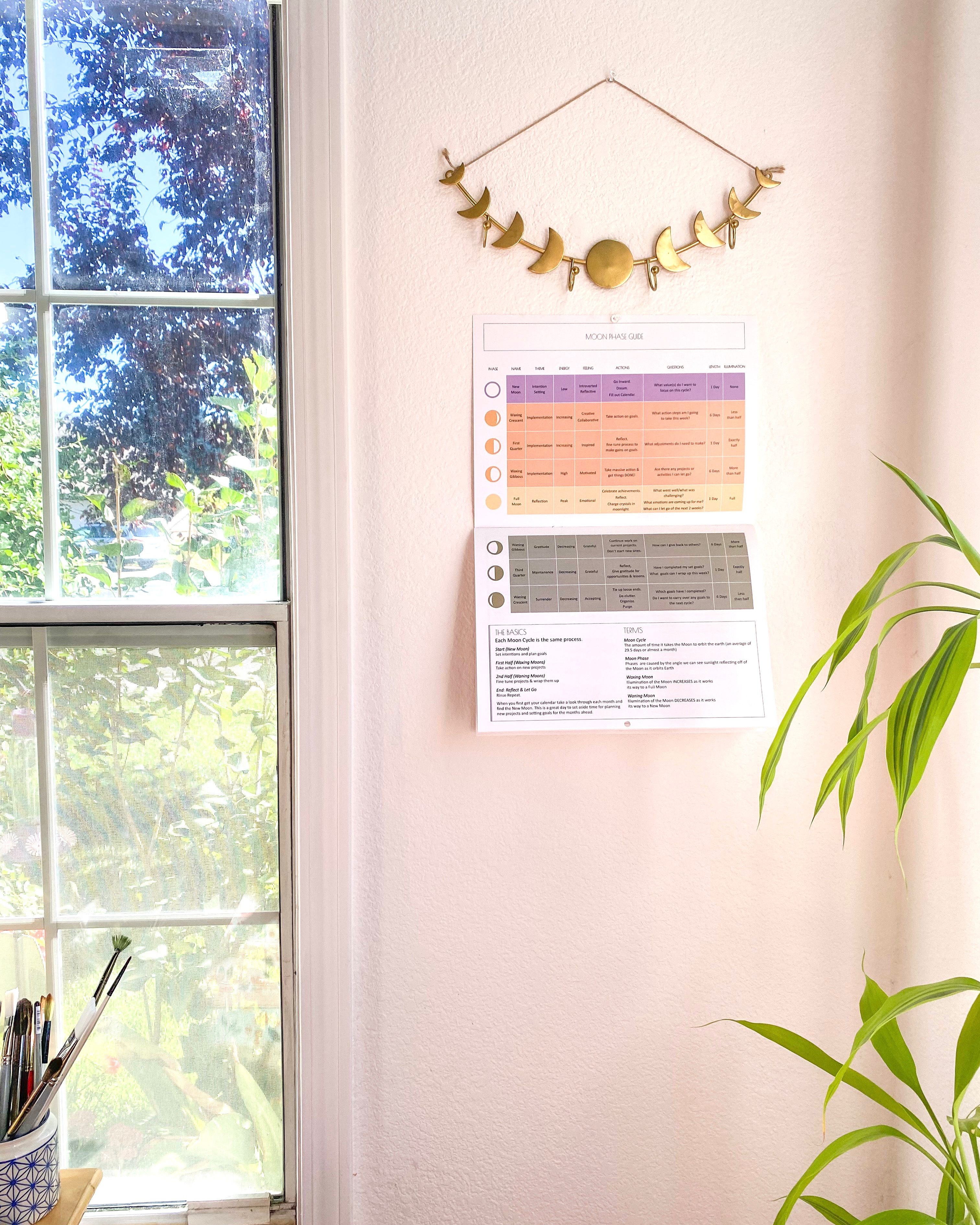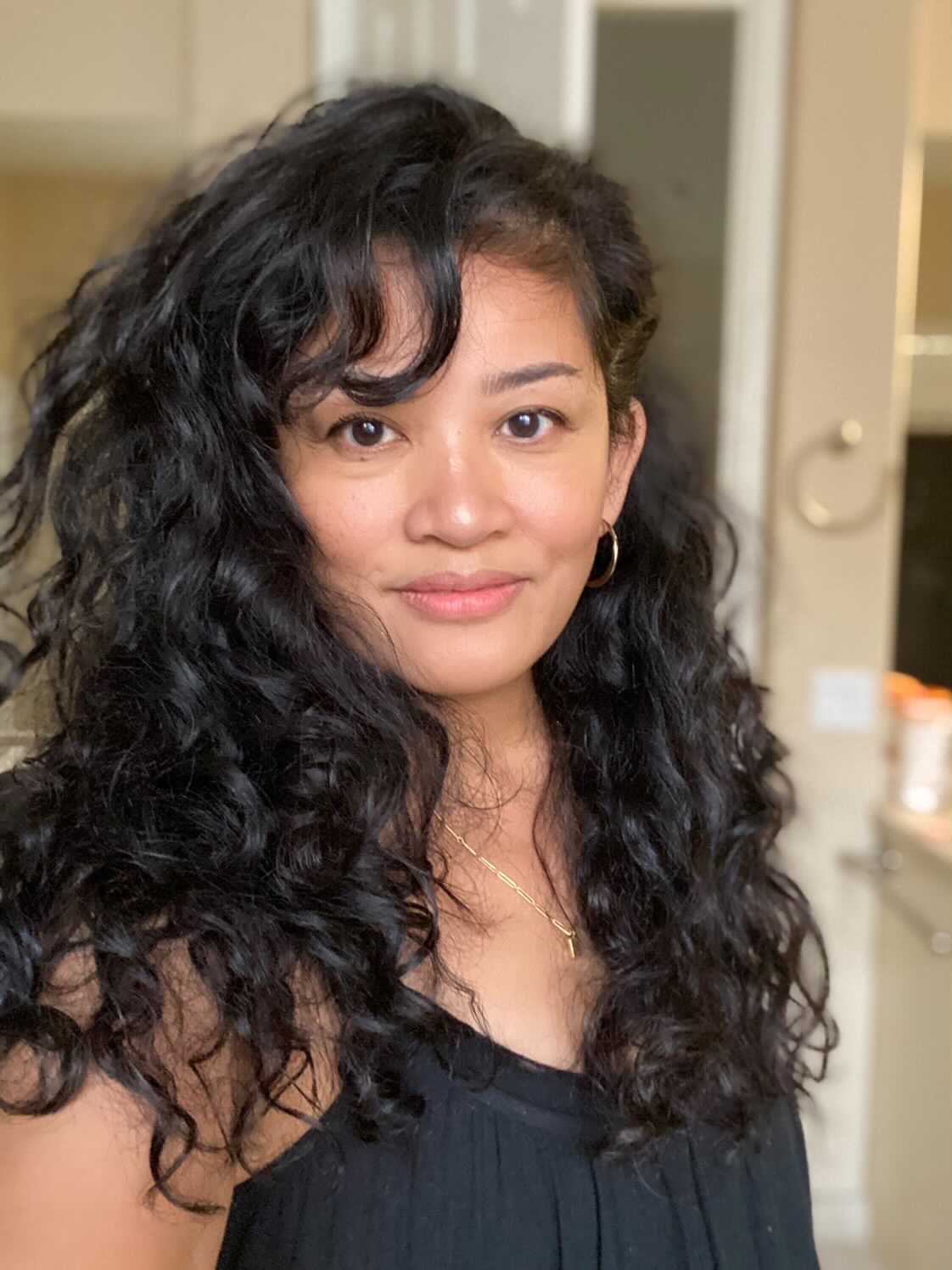 "Beth is very knowledgeable and her class exceeded my expectations!"
"I joined out of curiosity not really knowing anything about the subject.
During the class she not only described the moon cycle, but also gave ideas of the activities that best correlate with each phase of the moon. She suggested we focus on a word for the month and in doing so, I found myself to be more productive and aware of the opportunities that came along in alignment with that focus word!
Beth made the class and assignments very doable and she shared examples of her own process.
If you are looking for a way to find more alignment, balance, purpose, and accountability, I highly suggest tasking her class!!"
Cherri C- Artist
Arizona, USA
I invite you join my Moon Planning Magic Workshop!
You will be stepping into a new way of planning, a new way of living. Your Soul will be so grateful!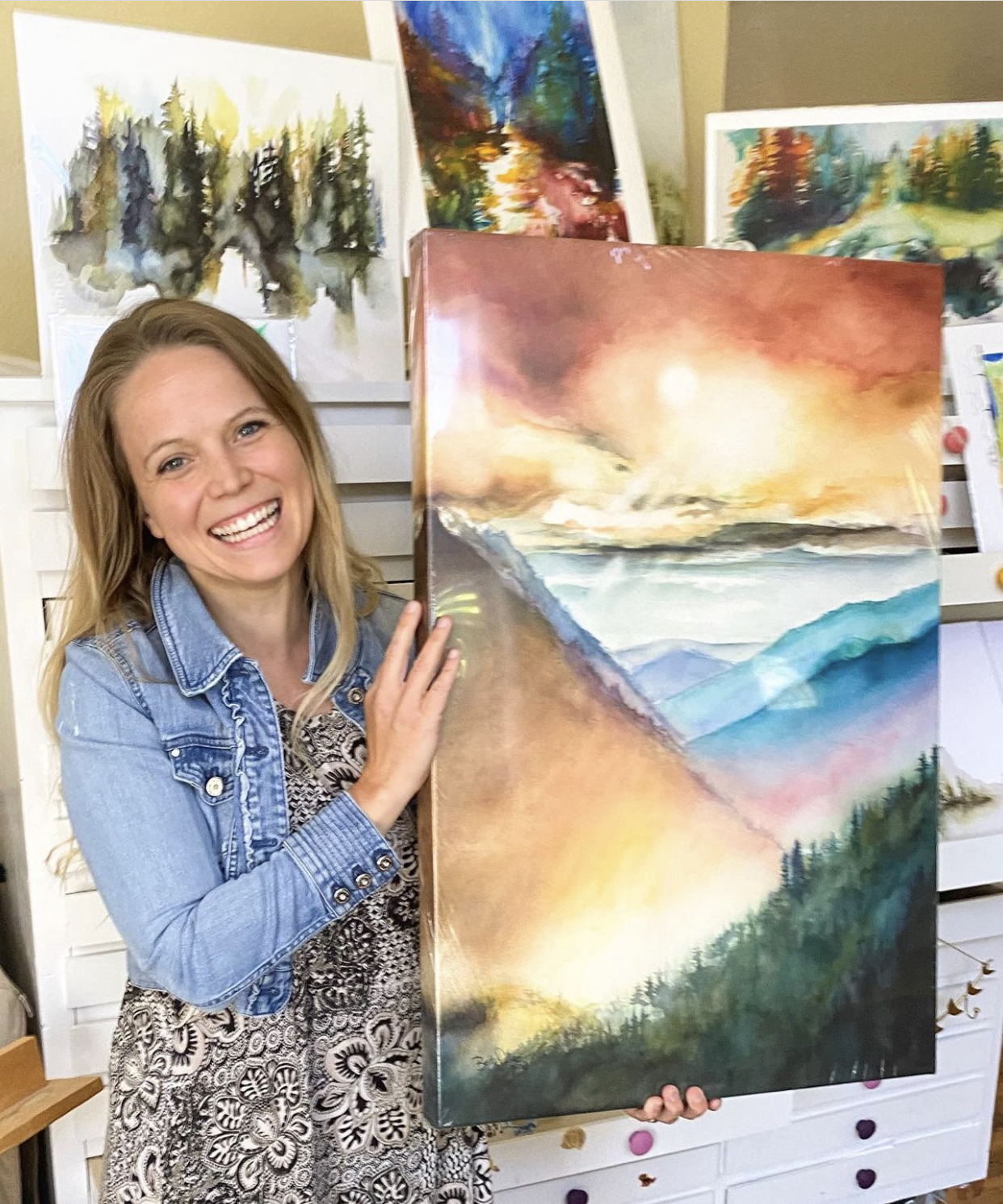 Here is your permission slip to do something just for YOU.


Learn to build more JOY into your day.
Spend your energy on the things that
MATTER most.
Take daily action that will bring you closer to your WILDEST DREAMS.

Join me, and hundreds of students from around the world, as we continue to plan with ease and intention.



FAQ


Is additional support offered?
YES! In addition to the classes, you are welcome to reach out to myself or my team-member, Kelly, at

[email protected]

.

Is there a time limit for completing to course?
Nope! This is YOUR journey. You are welcome to do the course as quickly or as slowly as works for you and your schedule

Do I need any additional materials for this course?
No, however I encourage you to take notes.
The course also includes a printable companion guide to use during each of your New Moon journaling and dreaming.
I encourage you to do your workshop in a quiet space that is inviting and calm.


How long will I have access to the course content?
You will have unlimited access to the course.

What do I do AFTER the course is done?


When you're finished with the course, consider joining our Membership Group.
We meet each Moon Cycle on or near the New Moon and implement the planning process together.
Here you will find accountability, a loving and supportive community, collaboration, and encouragement. You will also receive direct instruction from Beth learning the specific energy of the current Moon Cycle.
We welcome you with open arms!


It's a wonderful space where you will receive further support in your Moon planning practice.
Dream. Connect. Grow.

See you on the inside!

"I am in awe of this course..."
"...and of Beth as a person. She is a beautiful soul. This is so much more than learning the moon cycle. It's a whole package of growth and finding your core values. Something is shifting within me. I highly recommend Beth's Moon Planning Magic course."
Niki T
Reiki Master, Sydney, Australia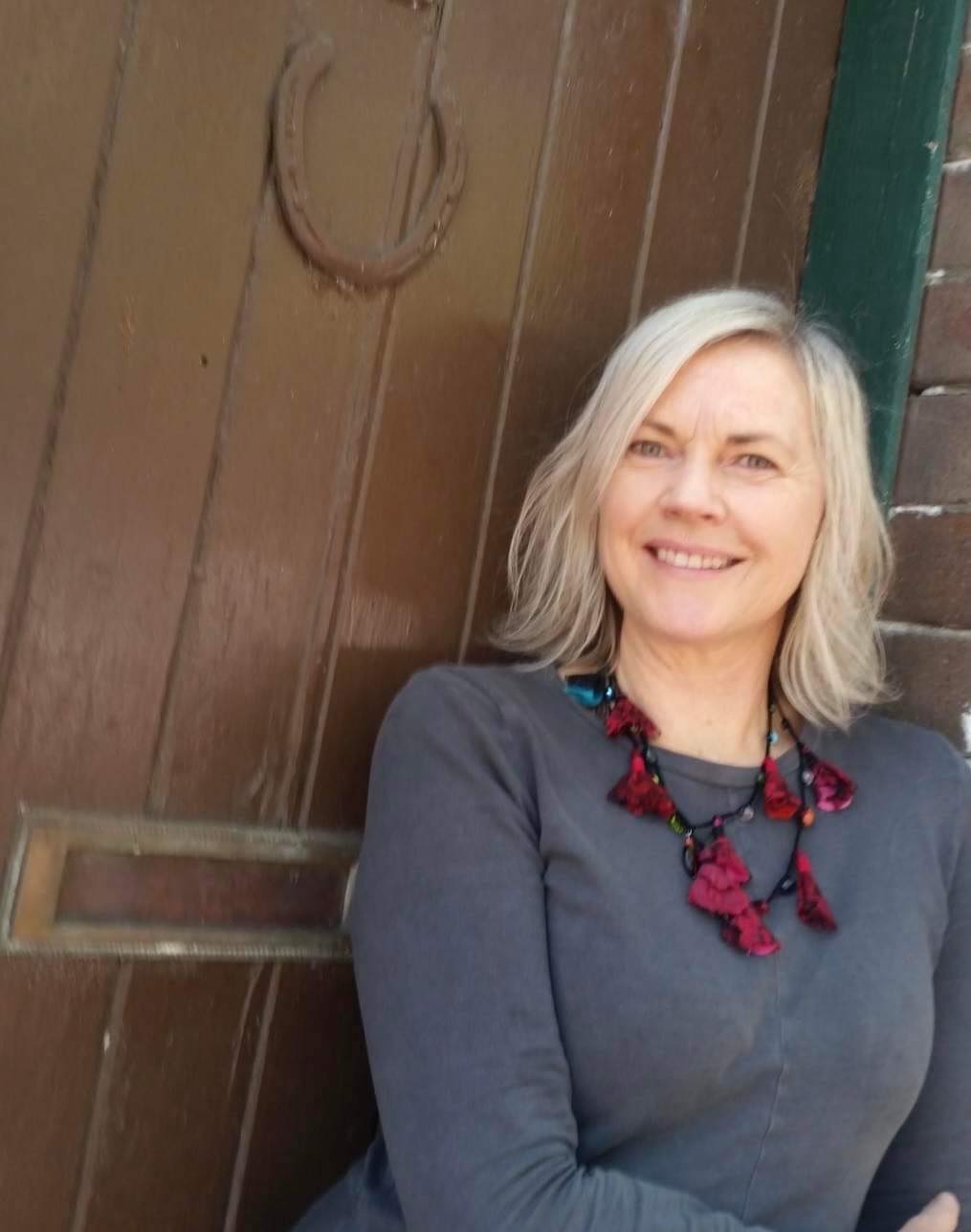 IT'S TIME...
It's time. 
It's time for you to finally step into who you truly are. 
It's time to let go of the busy and the frazzled and
the overwhelm and take the time to get quiet. 
Get quiet and listen to that voice inside you that is begging you to remember. 
To remember that your life should be full of purpose. Full of passion and joy and laughter.  That voice wants to remind you that it doesn't have to be this hard. It wants you to remember that life is too short to waste your gifts. It's too short to believe that you can put off your happiness for tomorrow.
QUESTIONS?
We are here to help!
Check your inbox to confirm your subscription